This June 2017 will mark fifteen years that I have been blessed to tend the central fire of Tribal Edge vision, community, and land. Our first gathering and fire began on the first weekend in June 2002.
The Tribal Edge Hearth 2008
In 2008, we had our grand opening, and with the help of many people created the current central fire and kitchen which are the center or Hearth of the Land and Tribal Edge.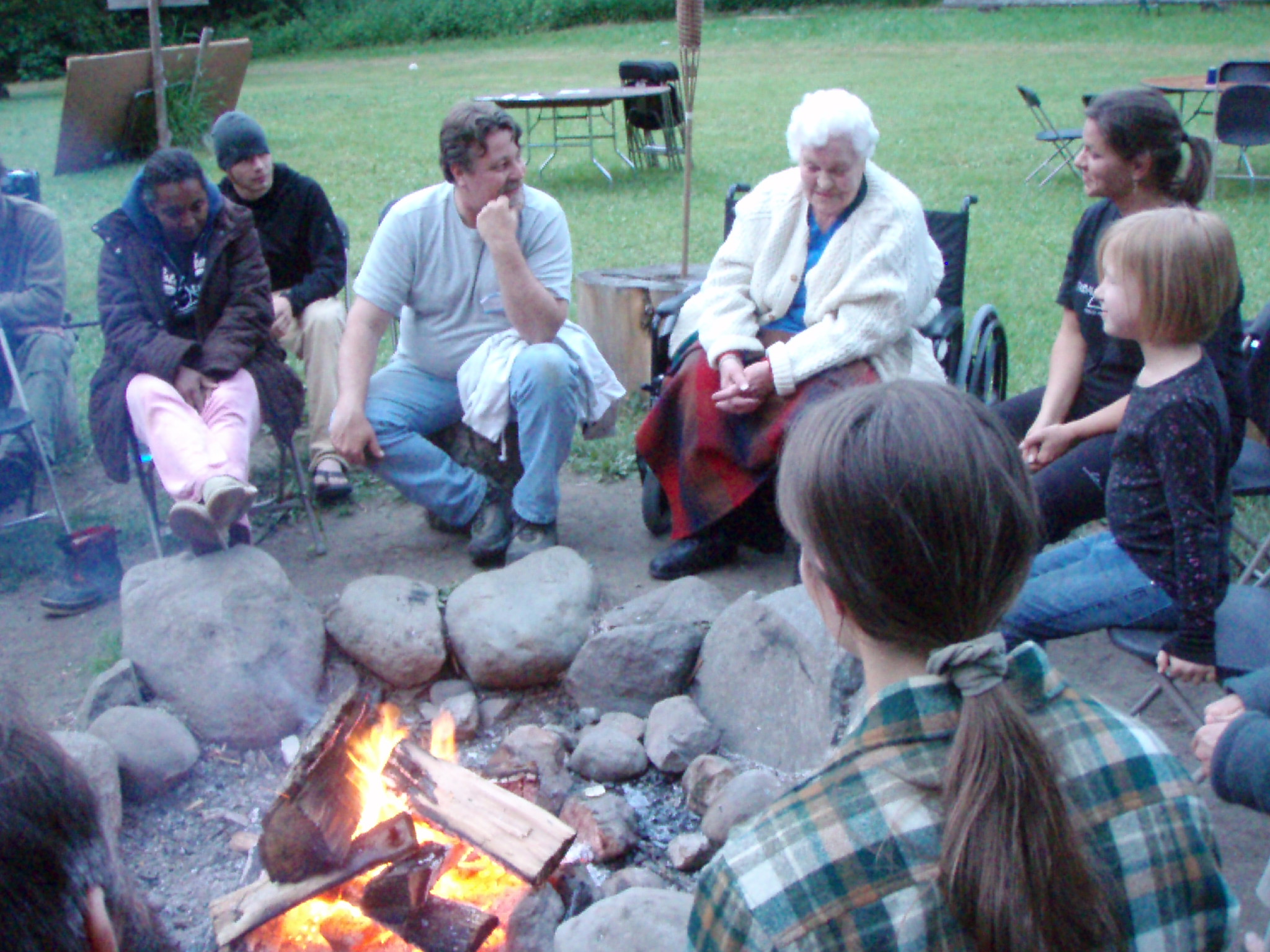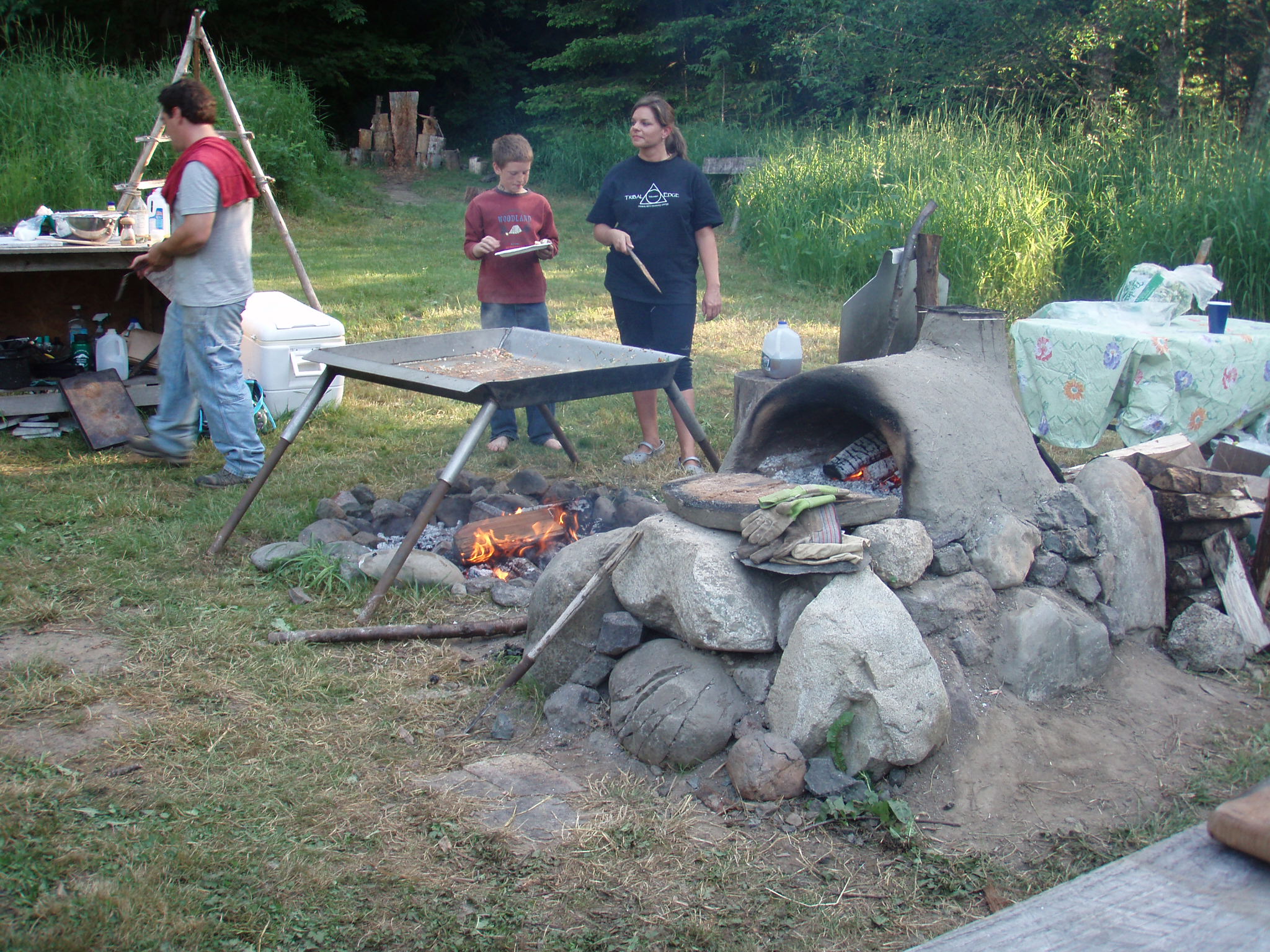 Now, thanks to the inspiration and contributions of my dear friends Braden and Noelle who are getting married at the land, we are transforming the Hearth of Tribal Edge once again and inviting you to be part of its transformation in any way you are able.
This spring, we are rebuilding the kitchen area completely with a covered roof and concrete countertop with the help of a great team of folks. There are other projects involved in our spring transformation if you have the desire to contribute to the land, community, and vision of Tribal Edge.
Our first workday will be on this Saturday May 20, from 10-4. You can let us know you would like to help or just show up. If you have any tools for manual labor- shovels, rakes, wheelbarrows, etc. please bring them. If you are interested in contributing useful items for our kitchen (propane tank, stove, water tanks, storage, etc.) we are still recovering from our loss last fall. Thanks for your support!
What is a Hearth?
This winter, I have spent much time near my wood stove or open fire, enjoying the comforts of home, resting, healing, and sharing warm meals with Victoria my love. Perhaps for the first time since my childhood, I have taken the time to personally enjoy the comforts of the Hearth. I grew up with a deep experience of the hearth which my mother beautifully created. All the warm, cozy, source of all things good and delicious after a hard day of play or work.
Inspired by my experiences and desire to live in balance, I have been researching the story of the Hearth and have been startled by how little information there seems to be on such a primal feature of our lives. It is as though it is something we take for granted that is hiding in plain sight. Something that is at the core of our values as people, families, communities and a nation. Below is a short exploration of what a hearth is to me and why I hold it as sacred.
A Hearth is the physical and symbolic center of life. It is what life is about- what we want and what we move towards. It is all the goodness of home, the joys and blessings, the comfort, warmth, food, and companionship that we hold dear. It is that center from which we leave and return to, and that which we protect.
The physical hearth is the heart in your chest, the central fire, the sacred places, the community center, and the fiery hot center of the earth mother.
The Symbolic hearth is the vision, the community needs, values, and dreams. It is the sacred teachings, stories, ceremonies, and songs. It is our culture, the meaning we give life and that which we live and die for.
Every living system consists of at least three elements or "roles" with specific subsets of skills and duties which allow that entity to exist. They are: 1. Guidance systems, 2. Functional systems, and 3. Protection systems
Vitacopia is Latin for "Abundant Life" referring to that which all of life seeks on its journey to full expression and potential in the presence of... the selective forces of nature. As living beings, we wish not to just survive but to thrive- to grow and contribute. This is the Way of Life.
At Tribal Edge, the Vitacopia community are those who train in the functional, nurturing, and healing path at Tribal Edge. (It's complementary opposite path is the protection path of Tribune Shield.) The Vitacopia path is largely one of service and much of the training is experiential, on the job training with real needs and responsibilities.
There are several layers of training which collectively form roles and duties of the Vitacopia community, and are vital to the functioning of Tribal Edge, the tribe, and the land. If you are interested in more information about Vitacopia or related training, contact us at thrive@tribaledge.life